Suzuki Swift 1.3 small auto rent - Low fuel consumption
Type of car:
CAR RENTAL - Low power consumption Suzuki Swift 1.3
Engine size:
1300 ccm
Automatic transm.:
No
Aircondition:
Yes
Passengers:





















Car rental tips:
The latest small category Suzuki Swift rental car can already be rented with us! Sit back and get to know a comfortable, aesthetic city small car that is easy to drive in any situation thanks to its driving assistance system. The Suzuki Swift rental car is efficient, low-consumption and makes every moment of driving enjoyable. The new Suzuki Swift is a popular and stylish individual, give it a try!
New Suzuki Swift rental car - A blood-curdling city car with outstanding safety solutions
A sporty experience for anyone who loves to drive. The style embraces, the dynamism captivates, the details fascinate. The energy coming from the car always lights up. Whether it's urban or rural, our 5-door Swift is top notch!
The new Suzuki Swift retains all the features that have made its predecessors a great vehicle, and thanks to its innovations, you can get to know one of the most modern city cars in it. A versatile, engaging-looking vehicle that calls for new roads with its exceptional driver support and safety system.
Choose the Swift from one of our small rental cars and you will always want to sit at the wheel. Start a new driving experience!
Powerful exterior: A small category rental car that is a pleasure to look at
The dynamism of the new Swift awakens your senses at first glance. Lower and wider than its predecessor, the sporty body, designer grille and striking fenders give the car a powerful look.
Captivating pair of eyes: Perfect illumination is provided by LED headlights, which with their unique design give the Swift a unique, easily recognizable look. The effect is further enhanced by the sophisticated, recessed LED taillights.
Born urban small car with sporty interior
Get in a car that focuses on your driver! When designing the instrument panel, the primary consideration was to focus on the driver, as exemplified by the center console facing the driver's seat. This, and the D-shaped steering wheel reminiscent of sports cars, as well as the sturdy seats are responsible for the sporty feel.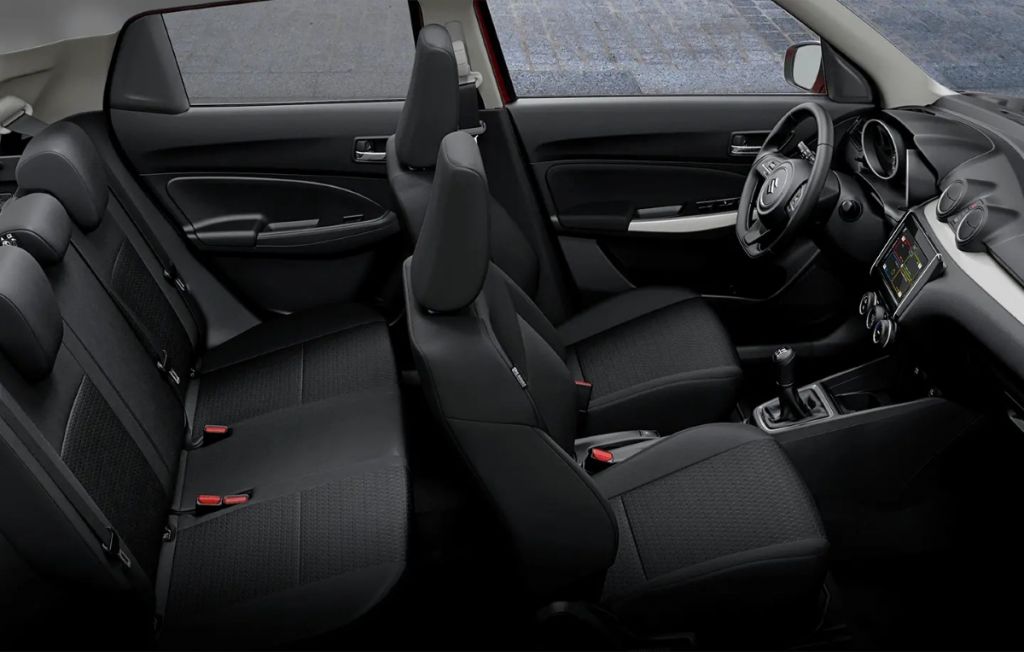 An easily variable and expandable luggage compartment into which you can easily pack everything
All passengers can travel comfortably and not have to bother with luggage storage: Despite the compact size of the new Swift, both the passenger compartment and luggage compartment have become more spacious.
The increased cargo space has been expanded by 55 liters. With a total luggage space of 265 liters, larger packages can also be conveniently accommodated. Easy-packing is also aided by split-tilt seats.
It is also worth mentioning the passenger compartments: The Swift has front cup holders, a rear bottle holder, a large storage capacity glove box and console box, as well as storage pockets on the seats for passenger comfort.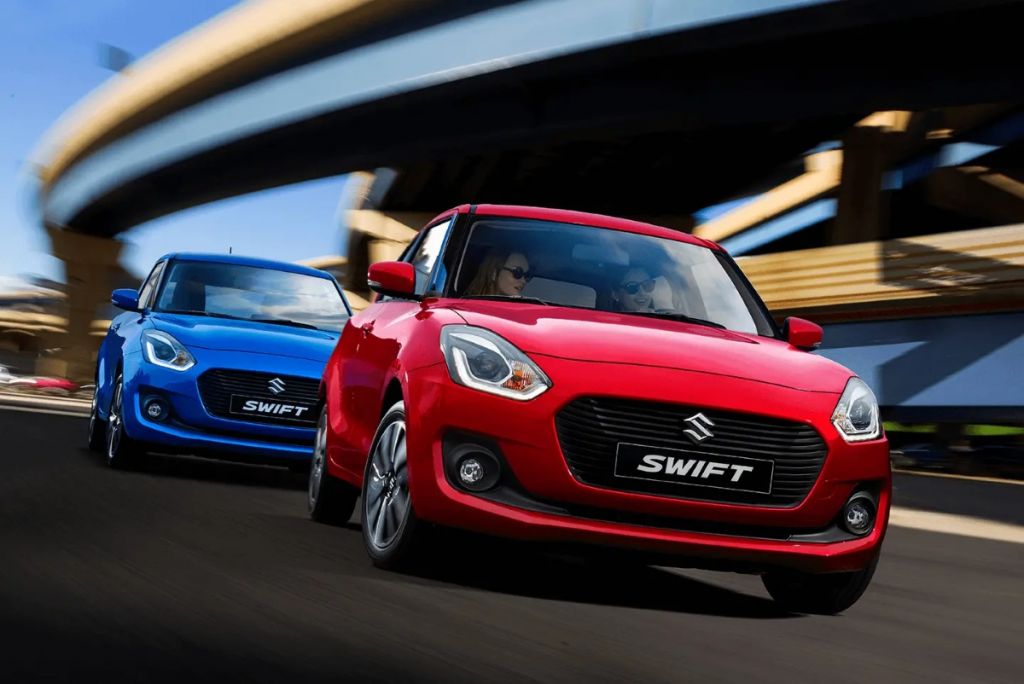 High-performance car rental with a modern information system
The new Swift offers confident cornering and convincing acceleration for driving lovers. Every detail of the powertrain was given special attention when designing the car, for both the 1.0 Boosterjet and 1.2 Dualjet engines.
Due to its small size and direct steering, it can easily turn in narrow streets and tight parking spaces.
The modern 4.2 "color display in the center of the instrument panel always provides accurate, clear data about the car while driving.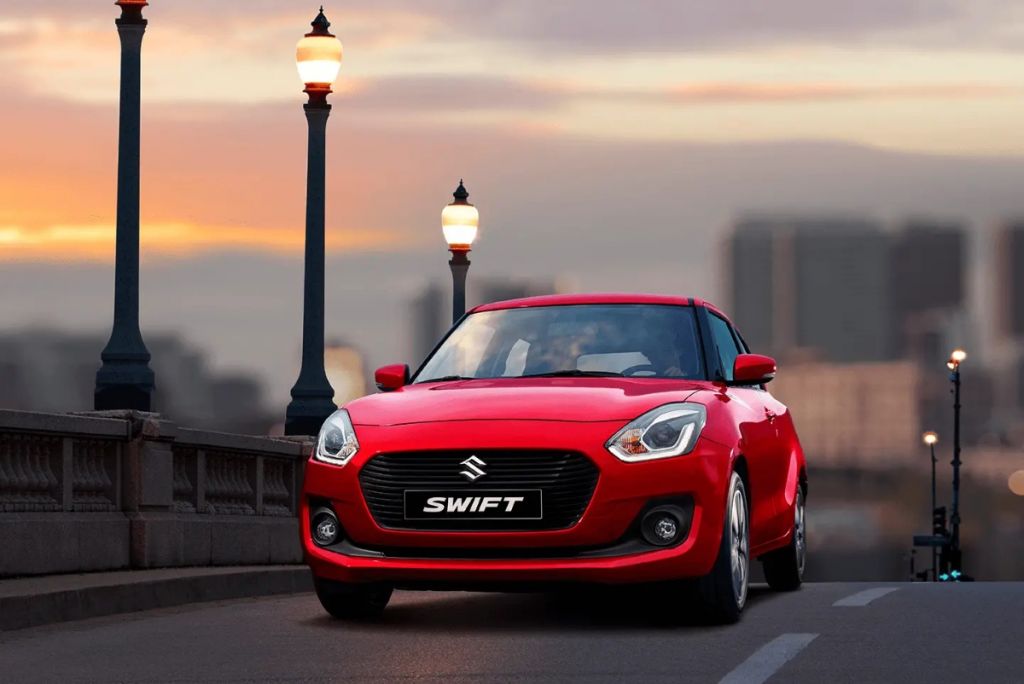 Safe rental car for the whole family
Advanced safety technologies in the new Swift provide peace of mind for the driver and passengers.
Preventing dangerous situations is aided by a crash protection system, but if a collision cannot be prevented, a well-distributed, reinforced body protects the occupants. The two front and rear airbags, the curtain airbags and the belt tensioners are also responsible for the safety of those in the car.
The following advanced safety technologies ensure the safety of passengers at all times:
radar emergency brake assist
combined emergency brake assist sensor
lane departure warning
lane departure warning
adaptive cruise control
high beam assistant
AllGrip Auto all-wheel drive system
The new Swift is the perfect option for those looking for a powerful, sporty and above all very safe small rental car. It is important to know that the car received four stars in the EURO NCAP safety test! If you are looking for a small car for a couple or a family trip for a short domestic trip or to a neighboring country, do not hesitate, the new Swift is tailored to your needs!
Amenities:
ABS
Adjustable multifunction steering wheel
Electric window front
Electric heated mirror
ESP (Stability Program)
ISOFIX system
Curtain airbag + 2-2 front and rear airbags
Seat height adjustment
Hill Start Assist
Tire pressure monitoring system
Immobilizer
* There may be significant differences by type, we provide cars according to availability!
The RentAuto Team wishes you a safe journey!