Budapest and Airport passenger transport services in Hungary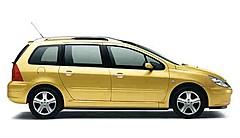 Seats: 4
Model: Autóbélrés Budapest sofőrrel / Transzfer - Peugeot, Renault, Opel
HUF/km: 99
HUF/hour: 2000
Comfort:


---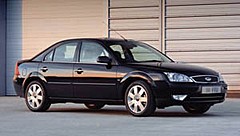 Seats: 4
Model: Budapesti autókölcsönzés sofőrrel - Ford Mondeo, Opel Vectra, BMW
HUF/km: 130
HUF/hour: 2900
Comfort:


---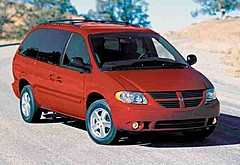 Seats: 6
Model: Minivan autóbérlés sofőrrel - Mazda MPV minivan, Ford Galaxy minivan
HUF/km: 132
HUF/hour: 3000
Comfort:


---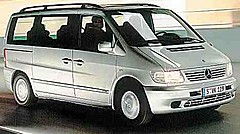 Seats: 7-9
Model: Személyszállítás és kisbusz bérlés Budapest - VW, Ford minibusz
HUF/km: 139
HUF/hour: 3300
Comfort:


---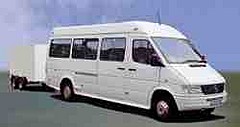 Seats: 9-17
Model: Budapesti transzfer bérlés - Mercedes kisbusz, Renault, Ford
HUF/km: 145
HUF/hour: 3700
Comfort:



---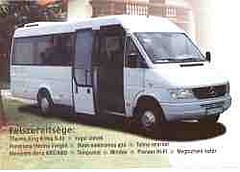 Seats: 18-23
Model: Mercedes busz, Iveco autóbusz bérlése - távolsági személyszállítás
HUF/km: 185
HUF/hour: 3900
Comfort:



---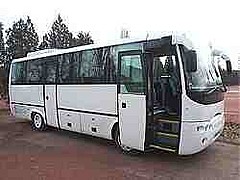 Seats: 24-30
Model: Mitsubishi autóbusz, Mercedes buszok, VW busz, MAN E-13, NEOPLAN
HUF/km: 209
HUF/hour: 4400
Comfort:




---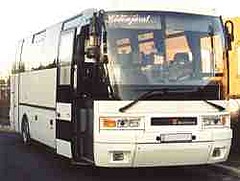 Seats: 30-36
Model: Airport transzfer – E15 buszbérlés sofőrrel, buszos utaztatás
HUF/km: 210
HUF/hour: 4800
Comfort:




---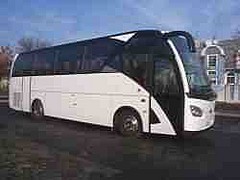 Seats: 37-41
Model: Személyszállítás Budapesten - MAN-AYATS autóbusz bérlés
HUF/km: 215
HUF/hour: 4000
Comfort:





---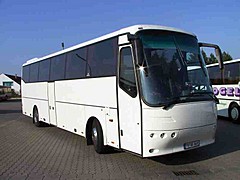 Seats: 42-48
Model: Személyszállítás Budapest - IK-350, Bova Futura autóbuszok
HUF/km: 220
HUF/hour: 4200
Comfort:





---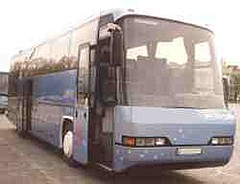 Seats: 48-51
Model: NEOPLAN busz, Bova busz, Setra autóbuszbérlés, autóbuszos utazás
HUF/km: 235
HUF/hour: 6200
Comfort:





---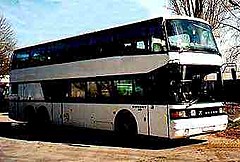 Seats: 51-75
Model: Autóbusz rendelés Mercedes, Neoplan, MAN, Setra-228
HUF/km: 315
HUF/hour: 7200
Comfort:





Conditions
Calculation of the price is alternating between distance-, and time-based methods. The method more favourable for the transporter is applied in all cases.
Within the boundaries of Budapest, a rental fee for 15 + 15 kms or 30 + 30 minutes is charged for the departure from and return to the garage.
The minimum daily output is 4 hours in case of short programs (1 day), or 220 kms/day in case of programs taking two or more days.
Additional cost (accommodation and daily wage of the driver(s), road tolls and parking fees) are borne by the customer. A daily wage for the driver(s) is charged for each day spent abroad (EUR 27/driver/day), regardless of boarding.
The driver is allowed to drive up to 9 hours a day (however, his working day may last longer).
The speed limit for the buses is 80 km/h on highways (or 90 in some countries), while on other roads it is 70 km/h.
The 27% VAT is not included in the prices above. VAT for trips abroad is 0%.
The prices above are valid until our next offer is issued!
Car rental reservation and information
United Car Rental Hungary
1st Rent Autókölcsönző Ltd.
Non-stop 0-24 phone: +36 30 996 2300
Phone: +36 1 283 8683
Fax: +36 1 209 0604
Web: www.rentauto.hu
E-mail: info@rentauto.hu
Head office: Lurdy Ház Shopping Center
1097 Budapest, Könyves Kálmán körút 12-14.
Office No. 63. downstairs (next to Líra Bookstore)